Waltrip High School


Class Of 1964

In Memory
Diane Bova (Hester)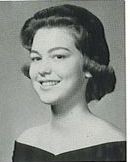 In loving memory of our dear classmate.
Information from Jimmie Lee Smith.
Diane and I were friends since Kindergarten. Diane had MS for 16 and 1/2 years and died of pneumonia.
Diane and I met at Garden Oaks Elementary. Our first argument was over Fred Pippert - we both claimed him as our boyfriend. Diane was an over-achiever. She was 1/2 a grade behind us, but caught up and ended up graduating with us in '64.

When Diane came to SFA, we were roommates for a year and I introduced her to her husband at the BSU. She was a speech/hearing major and I was her test person (dube) for many of her required practices. After her graduation from SFA, she and Buddy Hester married in August 1967 - she graduated from SFA early, too.

Diane was a speech/hearing therapist for DISD after she married and her husband had joined the Marines - he wanted a career in the service.

About October, 1967, Diane began showing symptoms and was later diagnosed with MS. By the time Charles and I married in August 1968, Diane was palsied and in a wheelchair and she refused to "mess up my wedding" by being wheeled down the aisle as my matron of honor.

Diane's MS case was unprecedented as she went downhill so quickly. She was basically unaware for 16.5 years. Her husband was released from service and Diane was cared for by her parents in their home in Candlelight Plaza.

During all those years of her being bedridden, her parents totally devoted their lives to her. Whenever I went to visit, I'm not sure she was aware of everything around her, but her parents made sure she had taped recordings of books and her favorite music.

Diane was hospitalized many times, but The Lord finally took her with pneumonia and she passed peacefully.