Waltrip High School


Class Of 1964

In Memory
Jimmy Kujawa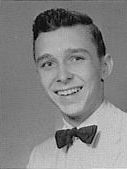 We just received news that our dear classmate, Jimmy Kujawa, passed away in December 2013 from his sister, Bobbie.
3/21/14
I would like to inform the Waltrip class reunion committee that Jimmy passed away December 2013 of a diabetic comma.

Enjoy the Reunion!
Bobbie Kujawa Kelly
Submitted by Jim Taylor - Jimmy's Obituary
Jimmy Lee Kujawa
(1946 - 2013)
Jimmy Kujawa, a lifelong Houstonian and member of Our Savior Lutheran Church passed away shortly before Christmas Day, 2013. He was preceded in death by his parents, Rufus and Hazel Kujawa. Jimmy is survived by his sister, Bobbie Kujawa Kelly and her husband Kenneth; nephew, Michael Kelly and his wife Nethia and their children, Sam and Kyle; niece, Terri Langdon and her husband Jon as well as their children, Jessica and Emily; aunts, Betty Frank Luedecke and Katy Frank. He also leaves behind many cousins and lifelong friends and neighbors. Jimmy was the owner and operator of K & K Office Supplies. After he retired, he was able to spend his free time traveling. In addition to his many adventures all over the US, he was fortunate enough to travel to places such as Central and South America, Russia, UK, France Italy, Germany, Switzerland, Spain and many places in between. One of his favorite cities was New Orleans and he attended Mardi Gras many times. As he never met a stranger, Jimmy had friends all over the world. He also loved the place we call "The Farm". That little stretch of land in Bellville was the spot for many of our family's fun times together for several generations. Jimmy rode in a number of Salt Grass Trail Rides with his cousin, Linda Ann and their horses, Dan and Misty. While Jimmy loved traveling, fine dining, art, history and culture. He was most comfortable in his jeans, cowboy hat and boots. As his sister, Bobbie has said many times about having a brother, "Everybody should have one". "There were times he was worth a million dollars and other times he wouldn't sell for a dime." There wasn't a thing Jimmy wouldn't do for his family, friends or neighbors. He sat with the sick and would lend a helping hand to anyone if he thought they needed his help. Jimmy was kind to a fault and will be missed by the friends and family who love him dearly.