Waltrip High School


Class Of 1964

In Memory
Marilyn Havis (Roesler)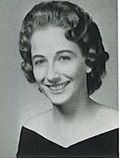 In loving memory of our dear classmate.
Information provided by Jim Taylor -
Marilyn Roesler, 58, of Mauriceville died September 5, 2004 at her residence. A native of Houston and resident of Mauriceville since 1975, Marilyn was a Special Education Diagnostician with Liberty County Special Education Co-op.
She is survived by her husband, Robert Roesler of Mauriceville; father, Bob Havis of Spring Branch, Texas; brother, Willie Havis of Denver, Colorado; son, Henry Roesler and his wife Richi of Nederland; and grandchildren, Maggie Roesler and Elise Roesler.
Funeral services will be 10:00 a.m. Wednesday, September 8, 2004 at St. John Lutheran Church under the direction of Broussard's, 2000 McFaddin, Beaumont. Graveside services will follow at 4:30 p.m. at Kurten Cemetery in Kurten, Texas. A gathering of family and friends will be from 5:30 p.m. until 7:30 p.m. Tuesday evening, September 7, 2004 at the Mortuary. Memorial contributions may be made to American Cancer Society, 755 S. 11th Street, Suite 212, Beaumont, Texas 77701